TEAM
A professional group rich with the diversity and strengths of its members.
Various people are working at SOLA DIGITAL ARTS, regardless of their age, gender or nationality.
We have team members coming from China, Korea, South East Asia, the United States, the Czech Republic, and finding new international staff is one of our top priorities.
Communication between members is made easier by the fact that almost every department is located within our own organization. This leads to open and lively interactions between the sections and brings directors and producers closer to other team members.
This page introduces 4 SOLA DIGITAL ARTS members, a "senior artist", a "junior artist", an "international artist" and a "production manager", as well as their respective area of specialization and their activities across the company's sections.
Apart from having the chance to work thoroughly on film productions, it is also exciting to see your name on the credits!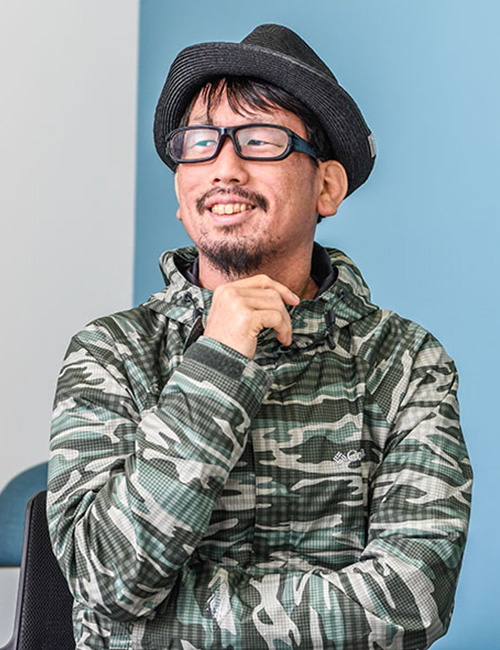 I really like photorealistic 3DCG animation, which is one of the unique features of Aramaki-directed works, and so I decided to join SOLA DIGITAL ARTS in 2012. Today, I am surrounded by highly experienced and sociable people.
The directors are always in the studio so whenever I have questions about the production, I can just ask them directly. This is one of the great strengths of the company, I think.
For "Ghost in the Shell SAC_2045", which is currently under production, we are trying a new way of producing images, in which team members can freely express their opinions, and with the goal of achieving high quality photorealistic images, yet with the characters' eyes resembling those of Japanese anime, a unique feature of SOLA DIGITAL ARTS. It was a great motivation for the directors Aramaki-san and Kamiyama-san to be able to hear voices directly from the people working in the studio. Our common goal, and the biggest, is to conclude the series, which means the production load inevitably increases.
Personally, what I find fascinating about working at SOLA DIGITAL ARTS, is that your name appears and remains on the credits. I think it is a good motivation to keep on doing my job.

Promoted background and prop designer one year after joining the company! Now growing up by receiving feedbacks from great masters.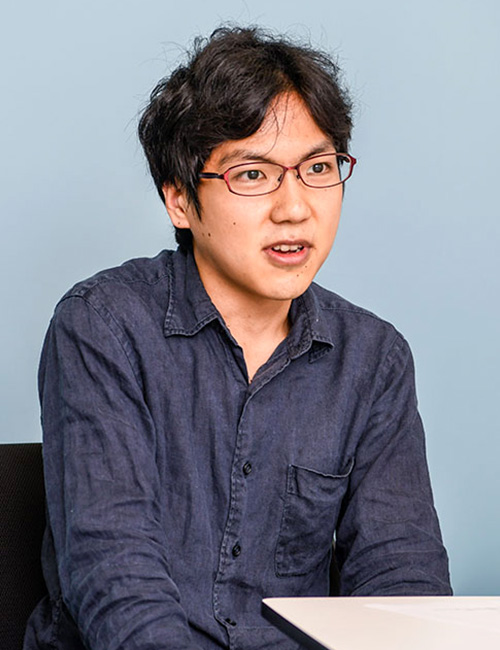 I liked movies and animation and I thought that 3DCG could give some shape to the drawings I was imagining, as well as allowing them to move freely, so I entered Kyushu Designer Gakuin. I applied to SOLA DIGITAL ARTS because, after graduation, I wanted to work for a studio that does realistic CG animation, that I personally like, and produces SF action movies. As I was an intern at SOLA DIGITAL ARTS since January 2019, when I graduated in March of the same year, I stayed in the company.
I could not imagine that my hope of being involved in the creation of SF action works will happen so quickly. And then, almost 2 weeks after joining the company, I was given the chance to receive a direct feedback from the Director, Aramaki-san. I am still a beginner and don't have a lot of knowledge yet but I cannot think that any other studio can provide a work environment like the one we have here in SOLA DIGITAL ARTS, where your ideas and suggestions are always heard.
We were 8 new recruits, newly graduated in 2019*. Newcomers in SOLA DIGITAL ARTS can enjoy healthy working hours, like they would in other common industries. There are also clubs in the company such as to learn English or create handicrafts. Currently, I am in charge of the backgrounds and props but I'm doing my best to eventually become a digital artist, capable of directing a movie and expressing from the earliest stages my own vision of the world.
*It was the first time SOLA DIGITAL ARTS hired new graduates but from now on, we will focus more on our policy to foster young people

The good thing about SOLA DIGITAL ARTS is that people are open.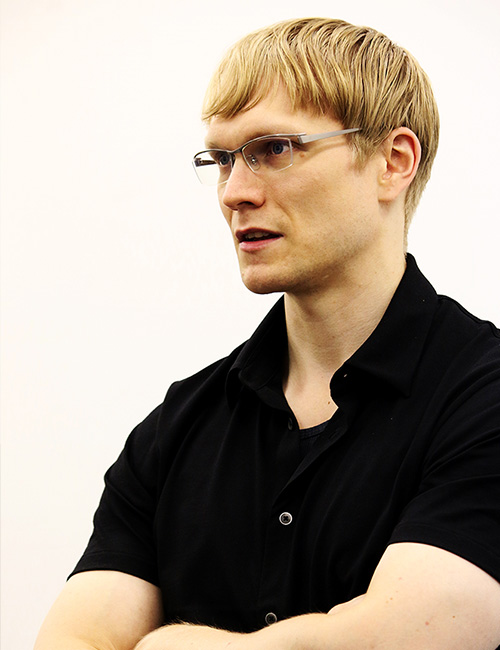 I am from the Czech Republic. Though in the beginning I couldn't speak Japanese, I came to Japan in 2012 as I wanted to try to live there.
At first, I was attending a Japanese language school, but because I liked the series "Appleseed" and "Ghost in the Shell", I decided to join SOLA DIGITAL ARTS. I've been doing computer graphics as a hobby since I was 15 and currently, I am mainly working on "Ghost in the Shell SAC_2045", modelling vehicles and mecha. Aramaki-directed works are highly detailed so the work is not easy but it is worthwhile.
The good thing about SOLA DIGITAL ARTS is that everyone, without distinction, is very open. In particular, we work closely with the directors and we have regular opportunities to speak directly with them. Thinking about my own career, I believe it is a good environment to develop skills. I also appreciate the atmosphere in the company, like the fact that everyone puts the things they like on their desk: the personality of each member is represented on their desk.
Twice a week, after work, I also hold an English conversation class at SOLA DIGITAL ARTS. Some people are very serious in their study because English is useful in their work, others are beginners and are learning English for pleasure. In the future, I would like to broaden my horizons beyond modeling and create my own production, like a director does.

I thought: "The company is still young and will grow, so anything is possible"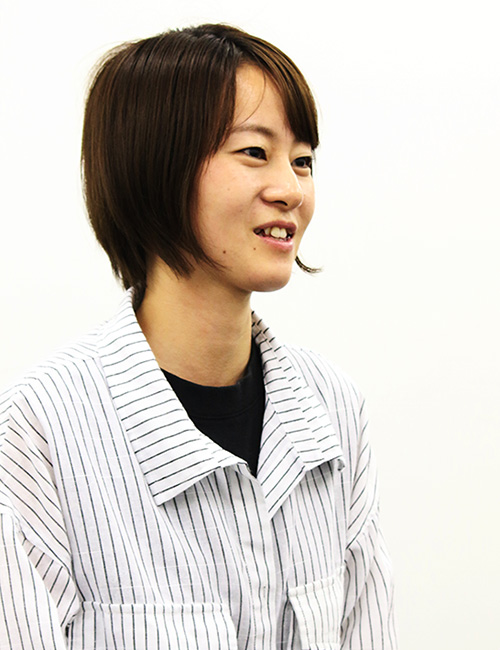 I joined the company in April 2019 as a new graduate and I now work as a Production Assistant on "Blade Runner Black Lotus" which is currently under production. I act as a liaison officer for the customers and participate from the earliest stages to the script writing.
I found SOLA DIGITAL ARTS while typing "CG animation company" in Google. There are two main reasons why I chose this studio rather than any other company: first I thought that it would be fun to work with people from outside of Japan, and then, that the company was still young, and will grow so anything was possible. I was basically convinced that working in the movie industry would mean long days of work, but it is actually not so harsh and I can usually enjoy my weekends.
I've noticed it after joining SOLA DIGITAL ARTS, but almost every department related to CG are on the same floor, which makes communication between people easier. I really like this aspect of SOLA DIGITAL ARTS. People, including the directors, always take the time to answer your questions, which makes my job a lot easier.
I do not have a concrete image of what I want to be in the future, but I wish to be strongly involved in every work we will produce.